The promise of drones in telecom.
Delivered.
Dual 120MP cameras
Twin 60MP cameras configured for bistatic angle collection.

Sub-millimeter GSD
A resolution of 0.5mm from a safe 10 meters from tower.
Interchangeable lenses
Adjustable 35, 55, 85, 135mm lenses for optimal collections.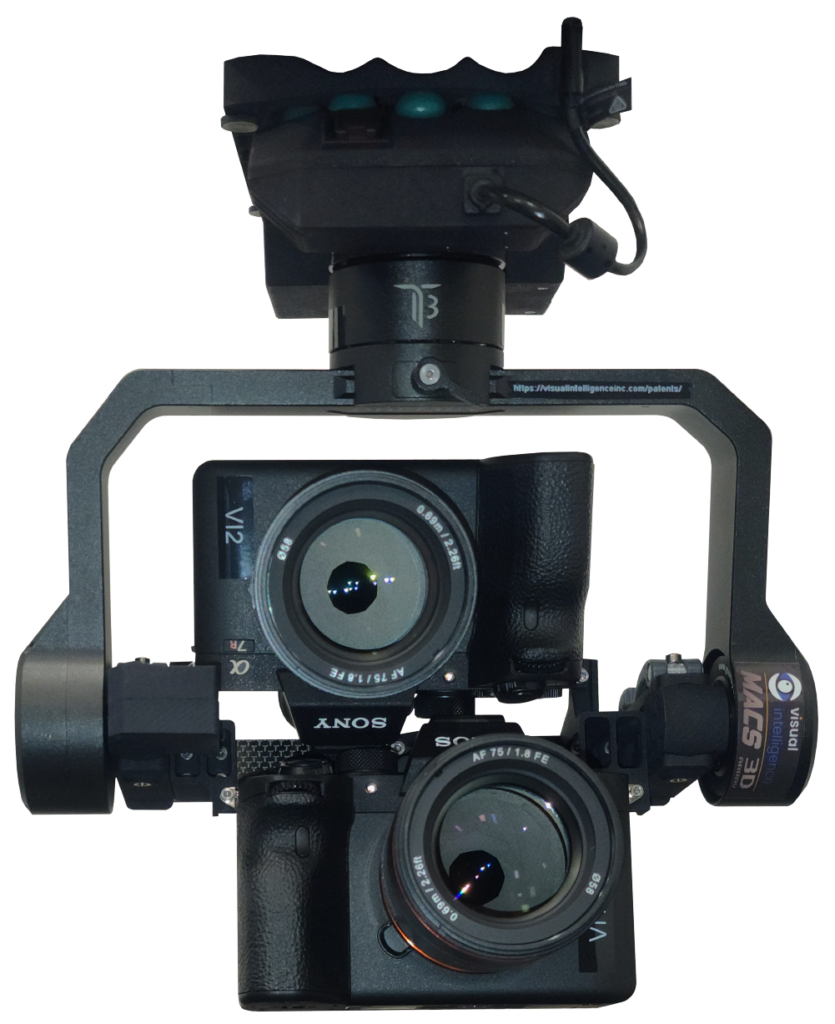 Engineering Class Drone Sensor
3d data is only as good as the sensor that collects it.
Drone data is limited by the sensor payload. Most drone sensors are designed to capture centimeter-accurate datasets. While useful for high-level site visibility, these sensors don't eliminate site visits.
This led us down a path to reinvent the sensor itself. Building on insider knowledge of the tower industry, as well as decades of photogrammetry experience, we created the industry's first aerial sensor capable of collecting 3D engineering-grade tower data.
In partnership with Sony
Visual Intelligence has partnered with Sony to optimize camera technology for the collection of Engineering-grade 3d data.
Sensor Comparison
Tower structures
Based on years of development and dozens of international patents, as well as collaboration with technology partners like Sony Electronics Inc, we've developed the only sensor designed for Telecom assets that is capable of consistently collecting Engineering Class 3D drone data.
With an optimized FOV and bistatic angles, the VI MACS-3D sensor captures more detail per photo at a safer distance from the tower structure.
| | DJI P4P v2 | VI MACS-3D™ |
| --- | --- | --- |
| Camera | 12MP single camera | 120MP dual camera |
| Lens | 8.8mm fixed lens | 35, 55, 85, 135mm adjustable lens |
| Resolution | 4.0-12.0mm at 5m | 1.0-1.7mm at 12m |
| GSD | 1.4mm at 5m | 0.5mm at 10m |
| FOV | 27-45° | 78° |
| Coverage | 80% surface coverage | 99% surface area |
| Measurability | 4pts per cm2 | 100pts per cm2 |
| Standoff Distance | 5m from center of tower | 12m from center of tower |
New Lightweight Design
"Visual Intelligence Unveils Lightweight Version of Engineering Class Drone Sensor System"
Visual Intelligence's new MACS-3D™ sensor module features a compact design that fits on various drone manufacture models, and a lightweight payload that provides increased compatibility with smaller commercial class drones – including the DJI Matrice 300.